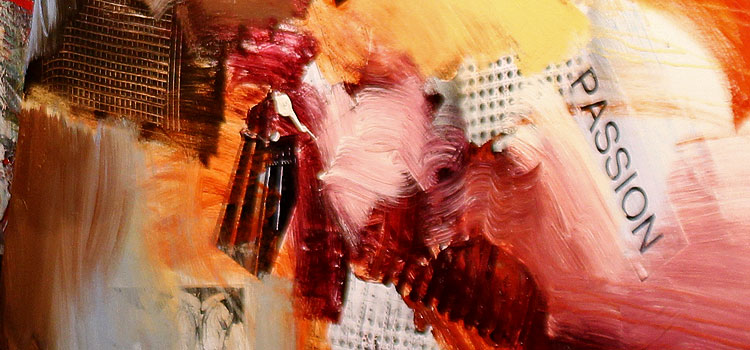 In our gallery there are signs stating, "It's OK To Touch". This speaks of and reinforces my love for the tactile elements in art.  I don't strive simply for an in-your-face assault on the senses.  Instead, I work to shift and channel creative energy in its multitude of forms and express it through the indescribable push and pull of color, light and gesture.
My work is not about the end result: It is about the process. When the focus is on the process, the end result happens by itself: it's always a beautiful surprise, a reward for letting go of concern about the outcome. That's a wonderful secret.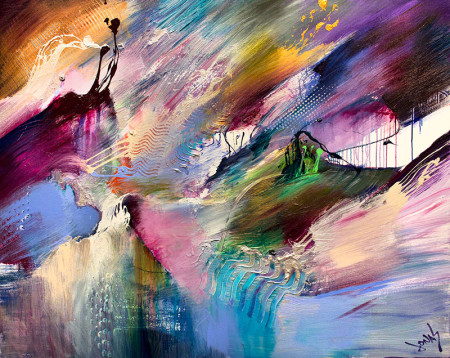 I work best when I am far outside my comfort zone, deep into the realm where every step is a fresh discovery.  Whether painting an abstract, landscape or other genre, the colors create their own relationships.  Happy accidents dance across the canvas and I am joyous witness to hundreds of tiny miracles.
An important aspect of my approach is painting quickly, spontaneously translating inspiration to canvas and eliminating any opportunities for second thoughts or regrets.  Working primarily in acrylics and mixed media, I find myself employing everything from powerful brush strokes and bold color choices to soft, fluid hues and silky textures, all to shine a light on the secret places of the soul.
My eyes are open to all influences from the worlds of art, nature and beyond.  To force all that through a narrow funnel and limit myself to one style would be to limit creativity itself; I can't do that.   I create art in a multitude of styles and media because that is the way I experience life.
Abstracts, Landscapes, Mixed Media, Silks, Sculpture… I must live a life of open, eclectic creativity or be consumed by the creative fire.
 Video by Keresey Proctor